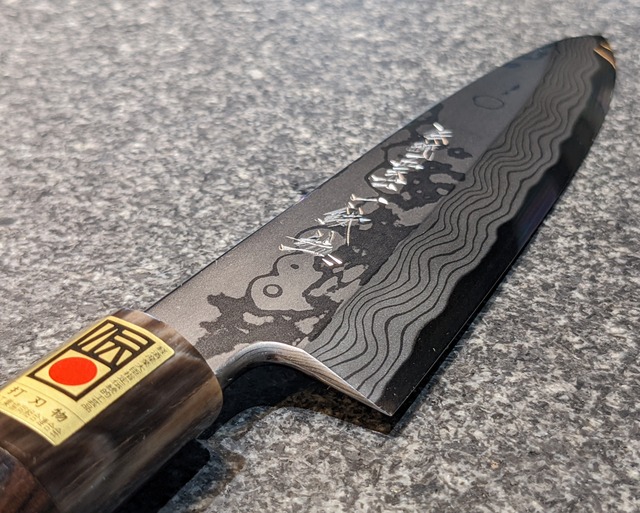 Unique Damascus Bunka single bevel 18cm
¥90,000 tax included
the last one
EN: Single bevel Chef knife Bunka made by Ikeda and Inox.
Damascus Aogami steel 2, ebony wood and buffalo horn handle.

We recommend a carefully using to enjoy plenty the high quality of Japanese tradition.
The blades are fine and highly sharped for a precise movement and inappropriate for hard or frozen food
To prevent the natural rust, we recommend to rinse the blade after cutting acidic food and handwash it then wipe before to store your knife.
IMPORTANT : Some foreign credit card can't be use during the paiement for safety. Please choose the option PayPal (don't need to have an account) to finalize the paiement.

FR: Couteau de chef bunka simple biseau par les maîtreq Ikeda et Inô en acier aogami 2, manche en bois d'ébène et corne de buffle.

Dans le but d'optimiser la qualité du tranchant, nos lames sont affutées plus finement en partie haute pour un geste net et précis.
Nous recommandons une utilisation délicate au début et progressive afin de profiter au maximum de la qualité supérieure de nos couteaux traditionnels.
Ces lames ne sont pas adaptés aux découpes d'aliment durs ou congelés.
Pour les entretenir et retarder le processus naturel d'oxydation, il est indispensable de les laver avec une éponge non abrasive et de les sécher avec un torchon ou une serviette avant de les ranger.
Pendant la découpe d'aliment acide tel que des oignons ou du citron, il est recommandé de les rincer sous l'eau ou de les essuyer avec une serviette humide afin d'éviter l'oxydation.
IMPORTANT : Certaines cartes étrangères étant parfois non acceptées par mesure de sécurité, merci d'utiliser l'option PayPal (pas besoin de posséder un compte) pour le paiement si vous rencontrez des difficultés.
Add to Like via app
Shipping method / fee

Payment method
EN: Please choose "buy as guest" and the option PayPal to finalize the paiement with a foreign card (do not need Paypal account)
FR: Merci d'utiliser l'option PayPal après avoir choisi "buy as guest" pour le paiement par carte bancaire non japonaise.
(pas besoin de posséder de compte Paypal pour procéder à la transaction)